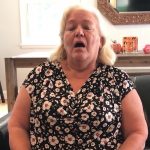 Hello, my name is Maria Acuña. I'm here to talk a little bit about Steve Aranda and how I met him.
I met Steve while he was remodeling a house on Christmas Tree Lane in Altadena, and we got to talking regarding his remodel he was doing and what his background was.
We met and we talked a couple of times and I asked him to come over and tell me what he thought of my property, which was maybe 3 or 4 houses down the street.
While talking to Steve, two things I liked about Steve. One of them was he was very sincere about either selling my house or finding alternative ways of doing what I wanted to accomplish, which was to retire, buy my house outright, and not have any worries regarding mortgage any more.
He suggested really strong possibilities. I researched them, and it didn't work for me, so I called him back so I called him back about selling the house itself.
During the selling the house it was so quick it was unbelievable, it was great. I was very comfortable with who he brought as a seller, I was comfortable the way he processed the sale of the house. I would recommend him highly.
One of the things that is his strongest suit is he's very very honest. He will tell you whether it's worth selling, whether it's worth buying, how you could approach what you want to accomplish in the end of everything.
So I really recommend him, I hope you work with him, and he does call back also.